Homemade Iced Tea Recipe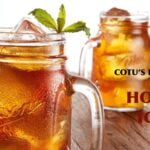 Asalamu'Alaikum! Today we decided to share this homemade iced tea recipe. This is so refreshing especially after a long fast or on a hot summer day!
[youtube https://www.youtube.com/watch?v=rsfbkvhMKnE]
Homemade Iced Tea

Ingredients:
2 cups of boiling water
7-10 teabags
1 – 2 cups of sugar (organic works great)
Additional 10 cups of water
Instructions:
1. Start by putting 2 cups of boiling water in a heat safe bowl or dish.
2. Add 7 – 10 tea bags and let steep for seven minutes. Remove the tea bags and make sure you do not squeeze the tea bags in any way or else the syrup will become bitter.
3. Add 1 – 2 cups of white or organic sugar based on how sweet you would like your iced tea to be. Stir into the tea water until dissolved. Organic sugar does not dissolve as well, but will still work.
4. Transfer this syrup into a jug and add an additional 10 cups of cold water. Refrigerate until ready to serve. Serve cold with a splach of lemon juice and lemon slices.
TIPS: If you find that there is left over sugar in your dish that did not fully dissolve, use the same dish with the sugar to add in the 10 cups of water. Also, if you find your drink is too sweet, add extra water.
Enjoy!