Homemade Yogurt Recipe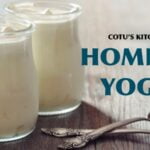 Asalamu'Alaikum! Today we decided to share this homemade yogurt recipe. Yogurt is used in all kinds of recipes and makes a great snack! Our recipe is easy to make and also goes great with our homemade cereal.
[youtube https://www.youtube.com/watch?v=FTltU2jg29Y]
Homemade Yogurt
Ingredients:
2-3 tablespoons of yogurt
1-2 columns of milk from a 4 litre pack ( 1.3 – 2.6 liters)
Instructions:
1. Start by putting a towel in the bottom of a tray or pan. Place a dish on top (this will be the dish that your yogurt will be made in). You will need an additional tray and towel at the end. The idea is to create a dutch oven for the yogurt to process in (you can use a dutch oven if you have one, we didn't).
2. Spread 3 tablespoons of yogurt in the bottom of your prepared pan. This will be your starter.
3. Boil 1 or 2 columns of milk based on how much yogurt you would like. Once brought to a boil, turn off the heat, let it sit on the stove until warm enough to put your finger in without burning (my grandma, we call her Maji) says enough for a baby to be able to drink comfortably).
4. Pour the lukewarm milk into your prepared pan with the yogurt and give it a mix.
5. Cover the dish with plastic wrap and envelope in the towels, then place another tray on top. It's a good idea to keep the yogurt in a warm place. You can put it in your oven (with the oven turned off). If you live in a warm place, you could leave it on your counter as well. 
6. Wait 8 – 10 hours for the yogurt to multiply and set. 
7. Take out the yogurt and uncover it. Refrigerate and use for up to 12 days.
TIPS: For organic yogurt, put organic yogurt and organic milk. Once you have made your first batch, you can reuse the yogurt over and over again.
CLARIFICATION: For the 'dutch oven' , you can take one baking sheet and put a dish towel in it. Then, place the dish you would like to make the yogurt in on top of that towel. After you finish putting in the milk and yogurt, cover the same dish with plastic wrap. Next, use the towel underneath to cover the dish. Then, place another baking tray upside down on top. Think of it as building a burger or sandwich.