Quran Study: A Discussion on Surah Al Munafiqun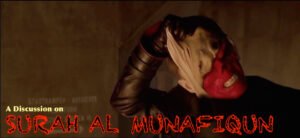 Surah Al Munafiqun is the 63rd Surah of the Holy Quran. The meaning of Al Munafiqun is the Hypocrites, which is from the root word nifaq, which means hypocrisy. Generally, we have learned that this Surah was revealed for three main reasons: There were Munafiq individuals at the time of the Prophet Muhammad (SAW) and we should know of them, Allah wanted to warn us from keeping the company of the Munafiqun, and Allah wanted to inform us to take heed that we, ourselves, could be of the Munafiqun. All three of these reasons can be related to this Surah, but to really know we have to do an in depth analysis of this Surah. We will take a look at the name of this Surah, period of revelation, origin and circumstances, and the overall meaning of this Surah and related verses elsewhere in the Noble Quran, Insha'Allah.
To begin, let's take a look at the name of this Surah a little bit more. The name of this Surah is derived from a part of the first Ayah (verse) of this Surah which says, "Idha jaa kal-munafiqun" which means "When the hypocrites come to you". In this Ayah we know that there were hypocrites in the time of the Prophet Muhammad (SAW), and that they were openly approaching him (SAW). We also realize that being a Munafiq is not a small thing. Rather, it is such a severe disease of the heart, that Allah mentions it in the Quran Himself! The Sahaba were extremely cautious and concerned about this disease affecting them and being counted as one of the Munafiqun, especially Abu Rib'i Hanzala (RA), and even Abu Bakr Siddiq (RA) and 'Umar ibn Al Khatab (RA), as illustrated in the stories from the Seerah of the Prophet Muhammad (SAW) at the end of this study.
It is important to know the period of revelation, because it will help us better understand what was happening during that time. This is a Madani Surah. There are many arguments and research among the scholars as to when the Surah was revealed. The scholars have concluded that this Surah was either revealed during the Prophet Muhammad's (SAW) return journey from his campaign against Bani al-Mustaliq or immediately after his return to Madinah. It was found that the campaign against Bani al-Mustaliq took place in Sha'ban A.H. 6, thus the time of revelation is determined quite precisely.
Now that we know about the time of revelation, let us see what was happening during that time period. Before the Prophet Muhammad's (SAW) migration to Madinah, the tribes of the Aus and Khazraj (two leading tribes of Madinah), were looking to appoint someone among themselves as a leader. They had almost agreed upon the leadership of one man. This man was Abdullah bin Ubayy bin Salul, the chief of the Khazraj tribe. Muhammad bin Ishaq stated that among the people of Khazraj his authority was never contested and never had the Aus and the Khazraj agreed to one man before this. So, the agreement between the two clans of his appointment as chief was a notable event throughout Madinah.
This was the condition when the voice of Islam reached Madinah in those days. The leaders and more influential people started to become Muslims. This happened before the Muslim migration from Makkah and before the Prophet Muhammad (SAW) was even invited to come to Madinah. Abbas bin Ubadah bin Nadlah Ansari wanted to delay this invitation to the Prophet (SAW) hoping that Abdullah bin Ubayy may voluntairily become Muslim and Islam would become the center point of Madinah making the transition easier and without offending the tribes or their leaders (mainly Abdullah ibn Ubayy), but the delegation that arrived in Makkah to declare their allegiance and invitation to the Prophet Muhammad (SAW) did not give any importance to the proposal of Abbas bin Ubadah. They did not want to delay the arrival of the Prophet Muhammad (SAW) and went ahead with preparing to welcome him to Madinah.
When the Holy Prophet (SAW) arrived in Madinah, Islam had already gone so deeply into the hearts of the Ansar (the people of Madinah), that Abdullah bin Ubayy became helpless and could not see any way to keep his leadership and reluctantly became Muslim. Abdullah bin Ubayy was filled with rage and hate, because he felt that he was deprived of his kingship and leadership. Abdullah bin Ubayy claimed that he was Muslim, but in truth he had so much malice and hate for Islam, he was far from it.
Over time, Abdullah bin Ubayy's hypocrisy was exposed day by day. He would sit in the first row at Jum'uah (Friday) and when the Prophet (SAW) would arrive to relay his sermon, he would stand up and say, "O people, the Messenger of Allah is present among you, by whom Allah has honoured you; therefore, you should listen to him and listen to what he says and obey him." Sounds good? It was all an act. Most of the time, we will see the people who speak the loudest of such things are the most empty inside. Realistically, thinking about the time we live in now or the state we are in, if the majority of people who sit in our mosques today were present when Abdullah bin Ubayy said these fake and sarcastic words, they would probably be so delighted and think that he was a righteous and pious Muslim. This is clear on how easily we fall for manipulation and the sway of power.
On one occasion, Abdullah bin Ubayy spoke harshly to the Prophet Muhammad (SAW) in passing. Prophet Muhammad (SAW) told Sa'd bin Ubadah (RA, one of the main Ansar who helped with the migration) about this to which Sa'd said: "O Messenger of Allah, don't be hard on him, for when Allah sent you to us we were making a diadem (a crown) to crown him, and, by God, he thinks that you have robbed him of his kingdom." (Ibn Hisham vol: II, pp. 237-238).
At the Battle of Uhud, Abdullah bin Ubayy betrayed the Muslims in one of the worst ways possible. As 1,000 Muslim men marched towards the battlefield to battle 3,000 Quraish, Abdullah bin Ubayy fled with 300 of his followers leaving the Muslims with only 700 men. A brutal battle ensued, in which the Prophet Muhammad (SAW) was not only injured, but the Muslims were defeated on account of mistakes and confusion. This was later seen as an obvious learning experience for the Muslims and provided them with great humbling reprimand from Allah SWT and resulting revelation that we benefit from even today.
After this incident at Uhud, most Muslims came to a complete realization that Abdullah bin Ubayy and his companions were certainly hypocrites. This is why at the very next Friday congregation after the battle of Uhud, when Abdullah bin Ubayy stood up to do his usual "speech" before the Prophet Muhammad (SAW) could do his Friday khutbah (sermon), the people pulled him down by his garments saying, ""Sit down you are not worthy to say such things." Abdullah bin Ubayy had never been embarrassed like this before and filled with rage he began to head for the door to leave. At the door some of the Ansaar called out to him saying, "What are you doing? Go back and ask the Holy Prophet (SAW) to pray for your forgiveness." He retorted, "I do not want him to pray for my forgiveness." (Ibn Hisham, vol. III, p. 111).
Some time later, in A.H. 4, the battle of Bani an-Nadir took place. On this occasion, Abdullah bin Ubayy and his followers supported the enemies of the Islam even more publicly and openly. At this time, the Muslims were to be fighting against the Jewish people who had broken treaties with the Muslims. Meanwhile, on the other hand, the Munafiqun (hypocrites), some of whom were still hidden amongst the Muslims, secretly sent messages of alligance to the Jewish people. They said, "Stand firm we are with you, if you are attacked, we will help you, and if you are driven out, we too will go out with you."
Besides the fact that that the Munafiqun had already been so exposed, the Prophet Muhammad (SAW) still treated them kindly. The Munafiqun did not have the courage to fight the Muslims either. They would still pay Zakah, come to the mosque, offer prayers, and claim that they were good Muslims. They would try to hide their hypocritical acts and make excuses if they were caught. They did this because they knew of the consequences of leaving the majority Muslim population of Madinah all together. They would purposely miss opportunities to cause mischief and chaos in the community, because they knew that many disadvantages would naturally arise for them if someone figured out their lies and deception.
This farce of unity on the part of the Munafiqoon was the cause that enabled Abdullah bin Ubayy and other likeminded hypocrites to accompany Muhammad (SAW) on the campaign against Bani al-Mustaliq (a tribe that was gathering against the Muslims, later they all became Muslim after they were defeated and captured). Even though, throughout their travels to the battle with Bani al-Mustaliq, the Munafiqun plotted within the Muslims and were against them, the Muslims never disunited or stopped believing in Allah SWT. They marched on. Just imagine, how it would be for the Muslims when they were witnessing these people causing mischief in the land and community and then to also witness revelation coming from Allah SWT in regard to the same people, exposing them as hypocrites, Subhan'Allah. This obviously strengthened their faith and resolve!
The following incident is related by Bukhari, Muslim, Ahmad, Nasai, Tirmidhi, Baihaqi, Tabari, Ibn Marduyah, Abdur Razzaq, lbn Jarir Tabari, Ibn Sa'd and Muhammad bin Ishaq through many reliable channels. This narration is a compilation of the different narrations put into one story.
After crushing down the power of the Bani al-Mustaliq, the Muslim army had made a stop in a settlement at the Well of Muraisi. All of a sudden, a dispute arose between two men who were fetching water from the well. One of these men were Jehjah bin Masud Ghifari, who was a servant of Umar ibn Al Khattab (RA) appointed to lead his horse, and the second man was Sinan bin Wabar al-Juhani, whose tribe was allies with the Khazraj tribe of Madinah. They started saying harsh words to each other causing them to get physical after Jehjah kicked Sinan, which the Ansar took as something very insulting. At this Sinan called out to the men of Ansar and the people of Jehjah, meaning he called them all to battle on this insult. This was very serious, as this dispute may have led to a battle between the Ansar and Muhajirun! Prophet Muhammad (SAW) heard all the commotion and came out saying, "What is this call of paganism? What have you to do with such a call? Leave it, it is a dirty thing." At this the dispute was cleared and Sinan excused Jehjah and peace was restored.
After this incident, every person whose heart was disaffected by Islam and the message of the Prophet Muhammad (SAW) came to Abdullah Bin Ubayy offended and filled with rage, saying, "Until now we had our hopes attached to you and you were protecting us, but now it seems you have become a helper of these paupers (beggars) against us." Abdullah bin Ubayy was already angry and yelled out, "This is what you have done to yourselves! You have given these people shelter in your country, and have divided your property among them. So much so that they have now become our rivals. Nothing so fits us and the paupers of Quraish (or the Companions of Muhammad) as the ancient saying 'Feed your dog to fatten it and it will devour you.' If you hold back your property from them, they would go elsewhere. By God, when we return to Madinah, the honorable ones will drive out from it the mean ones."
When Abdullah bin Ubayy said this, Zaid bin Aqram, a young boy was present. He heard what was said and mentioned it to one of his uncles who had happened to be one of the Ansar Chiefs, who then went to the Prophet Muhammad (SAW) to report what had occurred. At this Prophet Muhammad (SAW) called out Zaid and asked him what happened. Zaid repeated the whole story and every word that he heard. The Prophet Muhammad (SAW), ever the leader, said to Zaid, "Zaid, you are perhaps displeased with Ibn Ubayy, you might have been mistaken in hearing, you might have imagined Ibn Ubayy said this." But, Zaid was sure and held firm. He said, "No, I swear by God, I have heard him say this and that." At this the Prophet Muhammad (SAW) called Abdullah bin Ubayy who swore that he didn't say such a thing and denied his own words entirely. The people of the Ansar also said that perhaps it was not true, as a young boy said it and that Abdullah bin Ubayy was a vulnerable old man and that he should be excused. The Prophet Muhammad (SAW), however, did not need their excuses, as he knew Zaid and Abdullah bin Ubayy very well by this time and understood what had truly taken place.
When Umar (RA) found out what had happened, he came to the Prophet Muhammad (SAW) and said, "Please allow me to put this hypocrite to the sword. Or, if you do not think it is fit to give me the permission you may tell Muadh bin Jabal, or Abbad bin Bishr, or Sad bin Mu'adh, or Muhammad bin Maslamah from among the Ansar to go and kill him." Muhammad (SAW) said, "No, the people will say Muhammad kills his own Companions."
Then, after this, he ordered the people to set off immediately towards Madinah. The march continued for 30 hours at a stretch so that the everyone would become exhausted. When he finally asked them to stop, they all fell asleep as soon as they touched the ground. He did this so that the people would be distracted from what had happened at the Well of Muraisi. On the way, Usaid bin Hudair, an Ansar Chief, met the Prophet (SAW) and said, "O Messenger of Allah, today you ordered the people to set off at a time which was disagreeable for traveling, a thing you have never done before." The Holy Prophet replied: "Have you not heard of what your friend said?" When he asked whom he meant, the Holy Prophet Muhammad (SAW) replied, "Abdullah bin Ubayy". When asked what he said, the Holy Prophet answered, "He has asserted that when he returns to Madinah the honourable ones will drive out from it the mean ones." He answered, "By God, O Messenger of Allah, you are the honourable one and he is the mean one; you will drive him out whenever you want to!"
This news spread through the Ansar soldiers and enraged them against Abdullah bin Ubayy. The people told ibn Ubayy to go to the Prophet Muhammad (SAW) and request his forgiveness, but Abdullah bin Ubayy was arrogant and retorted, "You asked me to believe in him, and I believed in him; you asked me to pay the zakat on my property, and I paid the zakat too; now the only thing left is that I should bow down to Muhammad!"
This further angered the Ansar. When the caravan was approaching and about to enter Madinah, Abdullah, the son of Abdullah bin Ubayy, stood before his own father with a sword in his hand and said, "You had said that when you reached Madinah, the honorable ones would drive out the mean ones. Now, you will know who is honourable: you or Allah and His Messenger. By God, you cannot enter Madinah until the Messenger of Allah (SAW) permits you to enter."
When he heard his son say this, Abdullah bin Ubayy cried, "O people of Khazraj, look, my own son is preventing me from entering Madinah." The people conveyed this news to the Prophet (SAW) to which he said, "Tell Abdullah to let his father come home." Abdullah said, "If this is the order of the Prophet, then you may enter." At this the Prophet (SAW) said to Umar (RA), "Now what do you think, Umar? Had you killed him on the day when you asked my permission to kill him, many people would have trembled with rage. Today if I order them to kill him, they will kill him immediately." Umar (RA) replied "By God, I realize there was greater wisdom behind what the Apostle of Allah said than what I said."
Such were the circumstances at the time of the revelation. This Surah came at a time when the Muslims had already been physically exposed to the truth of these people and their misdeeds. They were now ready for the weight of this revelation and it's instructions.
Now let us look at Surah Munafiqun in some detail:
When the hypocrites come to you, [O Muhammad], they say, "We testify that you are the Messenger of Allah." And Allah knows that you are His Messenger, and Allah testifies that the hypocrites are liars. (1)

They have taken their oaths as a cover, so they averted [people] from the way of Allah. Indeed, it was evil that they were doing. (2)

That is because they believed, and then they disbelieved; so their hearts were sealed over, and they do not understand. (3)

And when you see them, their forms please you, and if they speak, you listen to their speech. [They are] as if they were pieces of wood propped up – they think that every shout is against them. They are the enemy, so beware of them. May Allah destroy them; how are they deluded? (4)

And when it is said to them, "Come, the Messenger of Allah will ask forgiveness for you," they turn their heads aside and you see them evading while they are arrogant. (5)

It is all the same for them whether you ask forgiveness for them or do not ask forgiveness for them; never will Allah forgive them. Indeed, Allah does not guide the defiantly disobedient people. (6)

They are the ones who say, "Do not spend on those who are with the Messenger of Allah until they disband." And to Allah belongs the depositories of the heavens and the earth, but the hypocrites do not understand. (7)

They say, "If we return to al-Madinah, the more honoured [for power] will surely expel therefrom the more humble." And to Allah belongs [all] honour, and to His Messenger, and to the believers, but the hypocrites do not know. (8)

O you who have believed, let not your wealth and your children divert you from remembrance of Allah. And whoever does that – then those are the losers. (9)

And spend [in the way of Allah] from what We have provided you before death approaches one of you and he says, "My Lord, if only You would delay me for a brief term so I would give charity and be among the righteous." (10)

But never will Allah delay a soul when its time has come. And Allah is acquainted with what you do. (11)
English Translation of Surah Munafiqun in Audio / MP3
Podcast: Play in new window | Download (Duration: 6:53 — 1.7MB) | Embed
Subscribe: Apple Podcasts | RSS
1) The hypocrites were claiming that they were Muslims, but inside they were something else. What they were saying was not reflecting their actions. For example, there is a charity collecting donations to buy food and water for homeless people, it looks genuine from the outside, and they are saying their intention is to help homeless people, but in truth they are keeping all the donations for themselves and expanding their image. Likewise, this is the state of many of the Muslims of today. We see many people who claim to be Muslims, but in truth they take are unbelievers that take interest, steal, cheat people, backbite, and lie. As per ayah 1, the hypocrites would say, "We testify that you are the Messenger of Allah." But Allah then goes on to say that HE testifies that the hypocrites are liars. From this we can take that hypocrites are two-faced. They project something on the outside and feel something different on the inside. They want to be with the Muslims and belong to the group, so they will go along with whatever the Muslims do, they will pretend to practice Islam, and deceive the true believers.
2) The Munafiqun use oaths to protect themselves, which the believing Muslims didn't find the need to do. The Munafiqun of Madinah would swear and make oaths of their faith and Islam to protect themselves from the Muslims and their status in Madinah. They were aware that if they didn't claim that they were Muslims, the Muslims would take them as open enemies. When they would get caught doing any hypocritical acts they would swear and take oaths. Just like Abdullah bin Ubayy took an oath when the young boy, Zaid bin Aqram, caught him saying those things about the Muslims. In the time we live in now, people use 'Wallahi' (I swear to Allah) as a way for people to believe them. People use 'Wallahi' as a scapegoat and a bridge to get over whatever they are being questioned about. People know that if somebody realizes that he is a liar, a hypocrite, or does bad things, he could be punished, will become lonely, and even isolated. What's really bad is that I have found that kids use this most often without even knowing the gravity of it. They learned this from somewhere, where could it be? So, another quality of a Munafiq is that hides his hypocritical actions with swearing to God, swearing on his parents or even his children, to make oaths protecting his true desires and nature.
3) Another quality of a Munafiq is that they turn away from Allah SWT and they turn others away from Allah. We know that the Munafiqun are not truly practicing the faith, but how are they taking away people from Allah's way? The Munafiqun of Madinah, would work internally to create doubts and evil. Not only did they take away Muslims, but also non-Muslims. They would create doubts in the hearts of Muslims about certain topics, we especially see this based on what Abdullah bin Ubayy said to his cronies that Zaid bin Aqram overheard. These are the kinds of things that he must have been putting into the minds of the Ansar, Subhan'Allah. The Munafiqun would create doubts in the hearts of the Non-Muslims as well and drive them away from the true message of Islam. In this day in age, when Muslims sit in gatherings some of them taunt Islam and say, "What kind of religion tells you not to make money and take interest? Why does Allah care what I do? What joy does Allah get to put us in Hellfire? What will happen if I do this and that?" These kinds of statements create unnecessary doubts in the hearts of the people and show that there are still Munafqun amongst even us. The Munafiqun of Madinah did not have intellect and therefore any commands that were coming to them, they were not able to understand them or act upon them. They would not be able to wrap their heads around those things and would therefore deny them. The Munafiqun did not like anything that involved changing their way of life, the only things that they accepted easily were the command of salah, zakah, and even fasting, because these things didn't require any major physical changes or giving up of their desires or positions. They didn't want to be alone in their disobedience or feel guilty, so they wanted others to be just like them, unchanging. So, from our example, the person who does not want to change will therefore taunt the guidelines of Allah, asking condescendingly about what would happen if they were to, for example, commit zina (adultery) or backbite someone, would Allah strike them down? Astaghfirullah.  Naturally, when non-Muslims must come to them and ask them anything about faith, they would either steer them away or not have the right answers, because they cannot fully grasp the meaning of the religion and it's guidelines themselves. Therefore, we know another quality of a Munafiq is that they are far from Allah and they take people away from Allah as well.
4) Now the next quality is based on verse 3. When we hear that they believed and then they disbelieved, we can get confused. Rather, the meaning of this is that when they 'believe' that is only what they are claiming, and when they disbelieve, that means that they are not acting upon the guidelines. When this verse says 'Allah caused a seal to be set on their hearts', it means that Allah deprived them and sealed them out of being able to adopt true belief in Islam and be noble people, because they were not acting with sincerity and with good intentions. This may remind us of the hadith of the Prophet Muhammad (SAW) where he said, "There will come a time upon the Ummah when people will recite the Qur'an, but it will not go further than their throats" (Bukhari). We can relate this to when the Munafiqun of Madinah would read or hear the verses of the Quran they did so without the intention to actually understand or believe, so Allah put a blockage so that they really could not understand the Quran and change into better people. When we see the people today, we see people who say that they believe in Allah and that the Prophet Muhammad (SAW) is His messenger, but then we see them going against the guidelines in very blatant and aggressive ways. For example, a person who is Muslim drinks alcohol. They are saying they are Muslim, but their acts are going opposite to the guidelines of Allah. So we know that the Munafiqun believe, but they disbelieve.
5) The next thing we know about Munafiqun is that they are attractive. Abdullah bin Abbas has stated that Abdullah bin Ubayy was a strongly built, handsome, healthy and smooth-tongued person and his companions also carried these same qualities. These same men would recline on cushions against the masjid walls and would speak agreeably and convincingly. Then they are described as timber, pieces of wood, propped up against a wall. If the timber is not being used it is worthless and serves no purpose. Thus, the Munafiqun and their opinions and presence is not needed. When you would look at their outward appearance, you would have never imagined that those same men would be so dishonored and wretched in their characters. Nowadays, we have all these 'intellectuals' who sit around our masajid and speak very big words. People listen and follow what they say but in truth they do not apply what they say in their own lives and homes. We have many people who give what seems to be good advice to each other, but in reality may not be beneficial or the right advice according to the Quran and Sunnah. So we know that the Munafiqun are attractive, but in truth, they are empty and useless people.
6) The next thing is that they feel like every shout is towards them. This short sentence shows us that the Munafiqun were aware and guilty of their hypocrisy, but they didn't want to hear about it. They would deem that every word, mentioning evil or hypocrisy, was towards them and suddenly come into a state of alarm, because they had a fear that the Muslims would realize their true state and their evil deeds. They wanted people to stay quiet and disliked when these type of matters or discussions arose, because they would become defensive and offended leading them to a state of weakness or heedlessness in which their truth may slip out. They liked to keep themselves under control and not show their true emotions. The same is of today; many people do not want to hear things that go against their ways of life even in passing. They don't want people to talk against their acts and their desires. This is where the statement, "don't judge me" is really born. Any time any one says something to better another, they are called judgmental and silenced.  For many people, changing something in their lives on the basis of Islam, makes them feel weak, as if they are admitting that something they were doing was wrong and they fear what people will think or say about them. Again, this is a type of characteristic of a Munafiq, they are going to claim Allah is their God, but then fear the people. This is why we find so many Muslims turning way from those who speak truth plainly without fear to those that stroke their egos and tell them exactly what they want to hear. That is the reason why the Munafiqun of Madinah stuck together, by the time of Abdullah ibn Ubbay's death he had close to 1,000 followers.  Therefore, another sign of a Munafiq is that any shout they hear, they feel like it is directed towards them.
7) Munafiqun are more dangerous than anyone else. These inward enemies can be more of a danger than any outward enemies, because they know the religion and they move amongst us without fear or resistance. Some of them are even in our families and in our circle of friends. They know how to use the words of the religion and their outward "Islamic" appearance to cause doubts in the true believers. Though, we know from history that the Munafiqun were great cowards and would manipulate the gullible Muslims and non-Muslims to get their dirty work done against the Muslims. We see this from the story of Aishah (RA) lost necklace, in which Abdullah ibn Ubbay slandered her and cast serious doubt in the hearts of many gullible Muslims through his manipulation and "pious" acting, leading them to also follow his lead in slandering her and creating a very hostile environment for the family of the Prophet (SAW) and the community at large. This shows us that the Munafiqun are a danger to society as they know how to speak and influence the minds of the masses. The beautiful outcome of these situations where the Maniqun were slowly being revealed was that Abdullah ibn Ubbay and his followers were stripped of their power and influence over the general population of Madinah, by the time he died of old age, Abdullah ibn Ubbay, was nothing, but an afterthought on the minds of the Muslims. His voice was drowned out by the unstoppable tide of Islam and it's ability to reveal the true character of man to the true submissive and sincere believer.
8) In verse 4 where it says "May Allah destroy them", it is not a curse, but rather it is a statement declaring that they are worthy of Allah's punishment. In Surah Al Nisa, Ayah 145, the Quran says: "Indeed, the hypocrites (will be) in the lowest depths of the Fire, and never you will find for them any helper." Do you see how much Allah hates nifaq? Do you see how severe their punishment will be? Do you know that the Munafiqun do not care that Allah is  saying this about them? Subhan'Allah. 
9) Munafiqun are arrogant, as in ayah 5 it states how the Munafiqun turn away from the forgiveness of Allah. Abdulah ibn Ubbay and his followers shook their heads and refused to come to the Messenger (SAW) to seek forgiveness. This was a clear sign that they were not believers. Today, we commit so many sins, yet we do not give them any importance or weight, thus never truly and sincerely asking forgiveness for them. Doesn't this also fall into the same category as disbelief in Allah's verses? The Munafiqun are arrogant and feel they are right and justified in all they do, this is why they never ask for forgiveness and always make others look like the offenders. 
10) The Munafiqun will never be forgiven. Allah says that it will make no difference if the Prophet Muhammad (SAW) were to pray for the hypocrites of Madinah, as they will never be forgiven. This is the verse that the Prophet Muhammad (SAW) based his decision to pray the funeral prayers of Abdullah ibn Ubbay, as he had felt that Allah had left the decision to actually pray for them on him, even though Allah would not forgive them either way. This decision led to the conversion of Abdullah ibn Ubbay's 1,000 followers, so we can see some wisdom in this,  yet, a similar verse was revealed shortly after the funeral, which appears in Surah at-Taubah revealed three years after Surah Al-Munafiqun. In this verse Allah says to the Prophet (SAW) about the hypocrites: "O Prophet (it will be all the same) whether you beg forgiveness for them or not, for Allah will not forgive them even if you beg forgiveness for them seventy times. This is because they have disbelieved in Allah and His Messenger, and Allah does not show guidance to the wrongdoers." (At Taubah: 80). Then later on in Surah at-Taubah it says, "And never perform the funeral prayer for any one of them who dies nor stand at his grave, for they have denied Allah and His Messenger and died while they were transgressors. " (At-Taubah: 84). Therefore, the funeral of Abdullah ibn Ubbay was the only funeral of a Munafiq in which the Prophet Muhammad or his Companions (RA) were in attendance. Thus Muslims are not actually allowed to attend their funerals or visit their graves and Allah will never forgive them for their disbelief and the corruption they cause.
11) The hypocrites do not want good for the Muslims. They want the Muslims to be weak and unstable. They detest the unity and strength that Islam brings. They don't want Muslims to have access to important necessities as we can clearly see from what Abdullah bin Ubayy said at the Well of Muraisi (the account the young boy Zaid bin Aqram heard). The Munafiq in his selfish and self-centered desires does not want the Muslims to hold any power or position. He wants it all to himself.
It is also important to note here, that Allah SWT has given a very detailed description of the Munafiqun in Surah Al Baqarah, from Ayah 8 to Ayah 20, as well. Do you see how important it is to Allah SWT that we know this and that we avoid these characteristics and people that He put this right at the beginning of His Book? Here are some of the qualities of a Munafiq that Allah describes in these verses and how He deals with them:
"And of the people are some who say, "We believe in Allah and the Last Day," but they are not believers."
(Quran 2:8) – This means that they say they believe outwardly, but they do not believe at all in their hearts. They make false oaths.
"They [think to] deceive Allah and those who believe, but they deceive not except themselves and perceive [it] not." (Quran 2:9) – They are sneaky and think that they are clever in tricking Allah and the believers into thinking they believe, but they don't know that they are only holding themselves back from the True Message of Islam and Allah Knows and Sees all.
"In their hearts is disease, so Allah has increased their disease; and for them is a painful punishment because they [habitually] used to lie." (Quran 2:10) – Allah is telling us that their hearts are sick and they lie, so He will punish them for their wrong actions.
"And when it is said to them, "Do not cause corruption on the earth," they say, "We are but reformers."" (Quran 2:11) – When Allah or anyone tells them to not do bad deeds and not cause problems for the community, they say that they are only trying to make peace and bring everyone together. (Does that remind you of groups in the world today that say the same kinds things?)
"Unquestionably, it is they who are the corrupters, but they perceive [it] not." (Quran 2:12) – Even though they may look like they are making peace, they are actually causing mischief and doubt in others, but while some of them know they are wrong, some of them don't and think that they are the good guys.
"And when it is said to them, "Believe as the people have believed," they say, "Should we believe as the foolish have believed?" Unquestionably, it is they who are the foolish, but they know [it] not." (Quran 2:13) – When anyone asks them to come to the right path, the Path of Islam, they make fun of it and the believers as if they are superior, but they don't understand that they are really the fools.
"And when they meet those who believe, they say, "We believe"; but when they are alone with their evil ones, they say, "Indeed, we are with you; we were only mockers."" (Quran 2:14) – They are two faced and pretend to be believers when they are with the Muslims, but when they are with the people they love and support who are against the Muslims, they tell them the truth: that they are just acting like Muslims and being nice to them to make fun of them and learn their secrets.
"[But] Allah mocks them and prolongs them in their transgression [while] they wander blindly." (Quran 2:16) – But Allah is the One Who is really mocking them, by letting them do evil deeds and be corrupt.
"Those are the ones who have purchased error [in exchange] for guidance, so their transaction has brought no profit, nor were they guided." (Quran 2:16) – Allah is saying what the Munafiqun are losing and missing out on. They think that they are achieving something by following that the path that they are on. When we sincerely ask Allah for guidance that is what we will get, but if we sincerely want to be astray and away from Allah's path, that is what He will give us. So the Munafiq trade heaven on earth for a short time for Hell in the Hereafter forever!
"Their example is that of one who kindled a fire, but when it illuminated what was around him, Allah took away their light and left them in darkness [so] they could not see." (Quran: 2:17) – All their effort, all their work, all their sacrifice is useless, because it is not for Allah, it will do them no good in their life or the Hereafter. It will not help them become popular or loved in the community as they desire, as they will be exposed for who they really are and people will not hold them to any importance and not desire their company. Allah will not forgive them in the Hereafter, so their deeds will be useless in front of Him as well.
"Deaf, dumb and blind – so they will not return [to the right path]." (Quran: 2:18) – Allah makes their evils plans and deeds look really good to them, so they never come back to the right path. Allah says that these people cannot hear reason, they cannot speak the Truth, and they cannot see what Islam is. They are just wandering around without direction or any real goals.
Or [it is] like a rainstorm from the sky within which is darkness, thunder and lightning. They put their fingers in their ears against the thunderclaps in dread of death. But Allah is encompassing of the disbelievers. (Quran: 2:19) – They purposely turn away from the message of Allah and close their ears to the Truth, like someone who covers their ears from fear during a storm when the thunder and lightening is very loud outside. 
The lightning almost snatches away their sight. Every time it lights [the way] for them, they walk therein; but when darkness comes over them, they stand [still]. And if Allah had willed, He could have taken away their hearing and their sight. Indeed, Allah is over all things competent. (Quran: 2:20) – When things are going well, when the Muslims are prospering, the Munafiq want to be a part of it, they love an easy and free ride, but when things become difficult and they have to struggle in the way of Allah, they don't want to do anything and cause problems for the Muslims that do want to strive in the way of Allah. This is the way that Allah shows them the way, but they deny it and reject it, so Allah will deny them and reject them when the Time comes when they will be begging for mercy and second chances, Subhan'Allah. They don't think Allah knows their secret thoughts and acts, but Allah knows everything and He will take each and every one of His slaves to account on the Day of Judgment.
Alhamdulillah, we have taken a look at the name of this Surah, the time of revelation, the history behind this Surah, and the meaning of the Surah. No one can surely say that they do not have any nifaq in them or that they are definitely not Munafiq. Muslims can be of the Munafiqun and they could be Munafiqun without even knowing it. We should really think of this deeply and study our beliefs, actions, and behaviour without excuses or arrogance. The punishment fits the crime very well, as this kind of person not only ruins him or herself, but cause divisions and harm in the community at large. May Allah save us from being of the Munafiqun, protect us from their 'shar, and guide us all, Ameen.
I wanted to end by relating two significant stories from two very important Sahabah (RA) that we hold to a very high status in Islam and who were given the glad tidings that they were men of Paradise by the Prophet (SAW). If they were worried about being of the Munafiqun, then how are we not?
Abu Rib'i Hanzala (RA), one of the scribes of the Messenger of Allah, said, "Abu Bakr, may Allah be pleased with him, met me and said, 'How are you, Hanzala?' I said, 'Hanzala is a hypocrite!' He said, 'Glory be to Allah! What are you saying?' I said, 'We were with Allah's Messenger (SAW), who reminded us of the Garden and the Fire and it was as if we could see them with our eyes. When we leave the presence of Allah's Messenger (SAW), we attend to our wives, children and estates in a state of great heedlessness.' Abu Bakr said, 'By Allah, we have experienced the same as this!' So Abu Bakr and I went to visit the Messenger of Allah and I said, 'Hanzala is a hypocrite, O Messenger of Allah!' The Messenger of Allah (SAW) said, 'Why is that?' I said, 'Messenger of Allah, when we are with you, you remind us of the Garden and Fire and it is as if we could see them with our eyes. When we leave your presence, we attend to our wives, children and estates in a state of great heedlessness.' The Messenger of (SAW) said, 'By the One in whose hand my soul is, if you were to remain in the state you are in when you are in my presence and in the dhikr (remembrance), the angels would shake hands with you on your bed and in the street, but, Hanzala, different times are not the same.'"

Despite being one of the most noble and closest companion of the Prophet (SAW), 'Umar bin Al Khattab (RA) feared that he belonged to the list of Munafiqun. When he heard that Our Prophet (SAW) disclosed names of the Munafiqun to Hudhayfah Ibn al-Yamman (RA), he rushed to him in anguish and asked "Am I on the list"? Hudhayfah did not reply. 'Umar (RA) asked again and yet again Hudhayfah did not respond. The third time 'Umar ( RA) asked, Hudhayfah replied, "No, your name is not on the list of the Munafiqin and I will not release other names" On hearing his response, Umar (RA) was relieved. He had such immense fear of having nifaq and this fear stayed with him until the day he died, as it should with us.