Homemade Cereal Recipe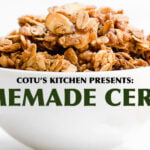 Asalamu'Alaikum. We all love cereal. Not only is it a fast breakfast, but it also tastes good. The only thing is that packaged cereals aren't always the healthiest. They are filled with sugar, preservatives and ingredients that most people can't recognize. That is why we decided to create COTU's Kitchen, where we will turn packaged foods into healthy, but still delicious dishes.
Homemade Cereal
Ingredients:
1/3 cup of melted coconut oil
1/4 cup of honey
1/3 cup of brown sugar
1/2 tsp cinnamon
1/4 tsp salt
1 tbs of vanilla extract
1 cup of slivered almond
4 cups of rolled oats
Instructions:
Preheat your oven to 300 F
Start by melting the coconut oil on medium heat. Once melted, add in the honey and stir well. You will find that the oil and honey are not going to mix together completely. Add in your brown sugar and mix for a continuous two minutes to combine. Let this mixture cool for 2-3 minutes.
Once the mixture is cool, add it into a food processor and blend it for 2 minutes. add in the cinnamon, salt, vanilla, almonds and oats.
Pulse for 30 seconds.
Stir the mixture to combine any liquid still at the bottom. Transfer this into a lined baking sheet and mix again. Flatten out the mixture evenly.
Bake for 15 minutes
After 15 minutes, stir the mixture and flatten it out again. Then bake it for another 10-15 minutes or until golden brown.
Remove from the oven and mix again. Flatten it out and let it cool completely.
Break the cooled cereal into chunks and pack in an airtight container.
ENJOY!
The cereal usually lasts about two weeks (if you can resist!).
Recipe Notes:
-If you do not have slivered almonds, you can use whole almonds. The only thing is that you have to break them into small chunks (with your food processor would be great) before you make the liquid mixture.
-If you don't have a food processor, you can use a blender or you can even do it by hand.
-300 F is also 150 C
-You can eat the cereal with milk, yogurt or kefir. Go ahead and sprinkle it on your ice cream as well (don't worry, we won't tell).
-Enjoy with a topping of chocolate chips, coconut, dates, raisins, cranberries, fruit and nuts.