Who was Malcolm X?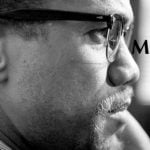 Malcolm X
was an African-American Muslim and human rights activist. He was a prominent figure during the civil rights movement. He was also a spokesman for the Nation of Islam until 1964. He advocated for empowerment in the black community and later all Muslims.

A Brief Biography
Malcolm Little was born on May 19, 1925 in Omaha, Nebraska. His father was murdered when he was still a young child. As a result of this trauma, Malcolm's mother was admitted into a mental institution. The Little children were divided into foster homes and orphanages.
As a teenager, Malcolm moved to Boston to live with his stepsister. Malcolm became involved in crime and gangs. In 1946, Malcolm was arrested on burglary charges. While in prison, Malcolm began to study Islam after his brother Reginald discussed his recent conversion to Islam and the religious organization called the Nation of Islam with him. Malcolm became Muslim and studied the teachings of the Nation of Islam's leader Elijah Muhammad. The Nation of Islam worked towards the empowerment of African-Americans. Additionally, Elijah Muhammad considered himself a Prophet.
The Nation of Islam
Malcolm changed his surname to "X", as "Little" was a slave name. When Malcolm was paroled in 1952 he was a devoted follower of the Nation of Islam. Malcolm quickly became involved with the Nation and soon became their Minister and spokesman. Elijah Muhammad appointed Malcolm special tasks, such as establishing mosques in cities including Detroit and New York. By 1963, Malcolm helped the Nation grow from 500 followers to 30 000.
Soon, Malcolm became a known individual. He was invited for interviews and television specials, which he attended knowing that he would be put on the spot, but he was able to always give intelligent and encouraging answers. Malcolm's fame began to increase to the point that his popularity began to surpass that of Elijah Muhammad. In addition, Malcolm's activism and publicity caught the eye of the government. The FBI was sent to infiltrate the Nation. They planted bugs, cameras, and mics to monitor the Nation's activities.
Leaving the Nation of Islam
In 1963, Malcolm found out that his leader Elijah Muhammad was secretly having relations with several women in the organization. Elijah Muhammad had up to six relations with women of which some resulted in children. Malcolm strictly adhered to the laws of Islam one of which included remaining celibate until marriage.
In 1964, Malcolm left the Nation of Islam. He founded his own organization called the Muslim Mosque, Inc. Malcolm went to perform the sacred pilgrimage to Mecca soon after. This trip proved to be life changing for Malcolm. He saw the true unity and brotherhood of Islam. He saw people worldwide gathering in one place with one goal. There were people of all races and of every shade gathered for God to perform the pilgrimage. This changed Malcolm's perception and gave him a different outlook on his beliefs.
The Return Home
Malcolm made the journey back to America with a new mission. He would speak to all walks of life rather than only the African-American community.
After leaving the Nation of Islam, relations between Malcolm and the Nation became tense. FBI agents within the Nation had informed officials that Malcolm had become flagged for assassination.
Many attempts were made to harm Malcolm and his family. Malcolm would not travel without guards as it was too dangerous. On February 14, 1965, Malcolm's home in New York was bombed. Malcolm was able to escape unharmed along with his wife and four daughters.
The Final Attack
On February 21, 1965, Macolm was scheduled to speak at Manhattan's Audubon Ballroom. Three gunmen rushed Malcolm on to the stage and shot him 15 times at close range. His wife and daughters were present during the brutal murder. Malcolm, 39-years-old at the time, was pronounced dead upon arrival to the Columbia Presbyterian Hospital.
Malcolm's assassins were all members of the Nation of Islam. In 1966, Talmadge Hayer, Norman 3X Butler, and Thomas 15X Johnson were all convicted of murder of the first degree.
Malcolm was buried by his friends at the Ferncliff Cemetery in New York.
The Change in Perspective
Malcolm's perspective changed when he was introduced to the Nation of Islam. The Nation of Islam promoted independence in the African-American community. After Malcolm performed pilgrimage in Mecca, he saw the brotherhood of Muslims. There were all races and skin colors collected to perform Hajj. He realized that the Nation of Islam was not entirely following the guidelines of Islam. This brought change to Malcolm's mission. He then shifted his focus from the African-American community to all walks of life.
A Few Quotes
"I believe in the brotherhood of all men, but I don't believe in wasting brotherhood on anyone who doesn't want to practice it with me. Brotherhood is a two-way street."
"Human rights are something you were born with. Human rights are your God-given rights. Human rights are the rights that are recognized by all nations of this earth. And any time anyone violates your human rights, you can take them to the world court."
"I have more respect for a man who lets me know where he stands, even if he's wrong, than the one who comes up like an angel and is nothing but a devil."
Malcolm's Legacy
Malcolm's efforts are still recognized today. Many individuals in the Muslim community are influenced by Malcolm's journey. Many African-American people are also inspired by Malcolm's legacy although they may not be Muslim themselves.
Malcolm X became a voice for all. He identified the problems pertaining to his people in the American system and raised awareness. To this day, African-American people are still fighting the justice system. Influential individuals like Malcolm are still impacting society generations later and his message is just as relevant today as it was when he lived.
Malcolm has influenced my life in many ways and I hope to practice law one day in the hopes of continuing his legacy and his fight for the freedom of his and all people who are oppressed by a self absorbed system that does not recognize their struggles or hear their voices.
References:
A&E Networks Television. (2021, September 2). Malcolm X. Biography.com. Retrieved May 29, 2022, from https://www.biography.com/activist/malcolm-x#&gid=ci023c937210002602&pid=10_former-nation-of-islam-leader-and-civil-rights-activist-el-hajj-malik-el-shabazz-aka-malcolm-x-and-malcolm-little-poses-for-a-portrait-on-february-16-1965-in-rochester-new-york-photo-by-michael-ochs-archivesgetty-images
Biography. Malcolm X. (n.d.). Retrieved May 29, 2022, from https://malcolmx.com/biography/
History.com Editors. (2009, October 29). Malcolm X. History.com. Retrieved May 29, 2022, from https://www.history.com/topics/black-history/malcolm-x
Mamiya, L. A. (2022, May 15). Malcolm X. Encyclopædia Britannica. Retrieved May 29, 2022, from https://www.britannica.com/biography/Malcolm-X
Shawki, A. (n.d.). The legacy of Malcolm X. Jacobin. Retrieved May 29, 2022, from https://www.jacobinmag.com/2016/02/malcolm-x-assassination-legacy/