Book Review: Golden Seerah (Darussalam)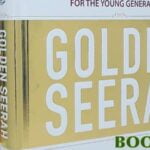 Book Name: Golden Seerah for the Young Generation (Darussalam)
 Author: Abdul Malik Mujahid
I really love this book. The format is very attractive and easy to understand. The Seerah, the life story of the Prophet Muhammad (SAW), is very important to Muslims, because it supports the Noble Quran and Sunnah. It can help explain why certain verses were revealed or in what situation. From the first moment I started reading this book I couldn`t put it down, the same thing happened when I showed it to other people and they asked to borrow it.
The best thing about this book is that the Seerah is authentic, as we have come to trust from Darussalam. It starts from the before birth of the Prophet (SAW) to his death. It gives great details and tells small stories at a time. Such as the amusing story of how Abdul Muttalib got his name. His uncle Mutalib came from Makkah to bring Shaybah Ibn Hashim (later known as Abdul Mutalib) who lived in Madinah to Makkah with him. Now, how did he get his name? When they arrived in Makkah the Quraish did not know who he was so they thought he was a slave, because he was a young boy. So, they called him slave of Mutalib or Abdul Mutalib and the name always stuck!
It ends with the last pilgrimage and speech of the Prophet (SAW) on Arafat before his death. We are told about the grief of the Muslims on seeing their most beloved person pass away. During this time, Abu Bakr (RA) stood and informed them:
"He who worships Muhammad should be informed that Muhammad has died. He who worships Allah should know that Allah is ever-living and does not die."
Abu Bakr (RA) then recited the following verse:
"Muhammad is no more than a Prophet: many were the Apostles that passed away before him. If he died or was slain, will you then turn back your heels?" (The Noble Qur'an 3:144)
To turn back on their heels means that will they just give up and let Islam go just because the Prophet (SAW) does not live anymore? He reminds them, so that we all keep going and strive for the sake of Allah even if the Prophet Muhammad (SAW) is not with us. Because of these men, the message is with us today in its exact form, the Qur'an is unchanged and the Sunnah and these stories have been handed down from generation to generation. They are very important and this book is a great start to developing a love for the Seerah of our Prophet Muhammad (SAW).
The photographs in this book are very beautiful and detailed. The youth will like this book, because it tells you like you are living in that time. Have you ever wondered what the Zam Zam Well really looks like? Have you seen the Mountain of Uhud or the Battlefield of Badr? Do you want to see what the Prophet's Mosque looked like in his time or the maps of the Muslims armies excursions? This book has it all, Alhamdulillah.
I really enjoyed reading it and rereading it. It is full of great knowledge and pictures. It made me imagine the Life of the Prophet Muhammad (SAW) much better and increased my love for him. My Dad and Mom even loved this book and all of the information it has. We are so glad we have it and can't wait for you all to read it too!
The excitement I felt after reading this book reminded me of how excited my sister and I were when we listened tot he Live of The Prophets series for the very first time! It is a great experience and everyone should hear these stories, because they teach great lessons and increase our intellect as Allah wants, Alhamdulillah. Check them out here.
Please follow the link below or look for it in your preferred bookstores and purchase it today, Insha'Allah.
Believe me, you and your whole family will love it!
https://dar-us-salam.com/english/biography-of-the-prophet/320-golden-seerah.html
https://darussalam.com/golden-seerah-for-the-young-generation.html